Mom's Lasagna
This is my absolute favorite lasagna ever!  It is a lighter version of an old favorite.  The best part is though that it is also easier to put together and is a huge fan favorite.  My kids and husband love this dish!  You can prep it ahead of time and then throw it in the oven from the fridge  making it perfect for busy holidays or dinners with guests.  IMHO it is better than any lasagna I have ever had at a restaurant.  This lasagna is flavor packed and oh so delicious.
Instead of ricotta cottage cheese is used.  It sounds strange but is amazing.  It removes the dryer paste like feeling of that large quantity of ricotta. Instead of mozzarella this recipe calls for Monterey Jack cheese.  Every aspect of this recipe fills this lasagna with richer flavors that make the use of sausage unnecessary to achieve robust rich flavors.  Trust me when I tell you that none of these substitutions detract from the lasagna ringing with traditional Italian flavors.
There are cheers all around when this baby is baking in the oven.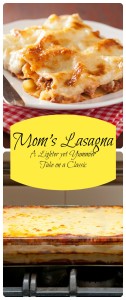 Mom's  Lasagna
Makes one 13×9 inch tray
Serves approximately 8
Ingredients
1 lb Lean Ground Beef
4 cloves of garlic (more if you like) minced/chopped
1 1/2 tsp salt
1 tsp pepper
2 6 oz cans of tomato paste
2/3 Cup of water
2/3-1 cup of Red Wine
3 tsp Oregano
1 box of lasagna noodles  (do not follow package preparation directions)
32 oz cottage cheese small curd
1 lb Monterey Jack cheese (sliced thin)
3/4 cup Parmesan cheese (freshly grated or preground are both good)
Directions
Prepare a 13×9 inch pan with cooking spray
Preheat oven to 350 degrees
 Boil lasagna noodles for 18 minutes.  set aside
Place ground beef, garlic, salt, and pepper into a large pot.  Brown and break apart the ground beef.
Add tomato paste, water, red wine, and oregano
Stir the sauce together and allow to simmer on very low heat
When the sauce is a nice consistency you are ready to begin your lasagna layering.
As you place your layers of noodles overlap the noodles by roughly one inch to make a solid layer of noodle.
Layer 1:  1/3 of your noodles : 1/3 cottage cheese : 1/3 sauce : 1/2 jack cheese
Layer 2:  1/3 noodles : 1/3 cottage cheese : all of Parmesan : 1/3 sauce
Layer 3:  1/3 noodles : 1/3 cottage cheese : 1/3 sauce : 1/2 jack cheese
Bake at 350 for 45 minutes
should be bubbly and slightly browned on the top.
Let rest for 5 minutes before serving.
Serve with your favorite garlic bread and a fresh green salad.  It is quite possibly the perfect meal.
It may be a lighter version but my 3 guys all LOOOOOVVEE it!
More Recipes:
Chocolate-Chocolate Chip Muffins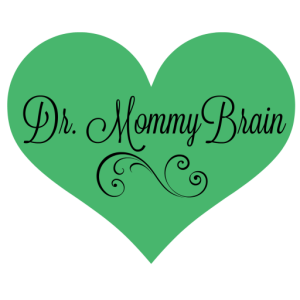 The following two tabs change content below.