Nightmare:  A scary or sad dream that results in waking from sleep.  Generally a concern to parents because it causes distress and a difficulty returning to sleep.  Everyone has dreams that could be classified as nightmares at all ages. Nightmares are not harmful unless they disrupt daytime function or result in significant sleep loss on a recurring basis.
VS.
Night Terror:  Night Terror occurs during sleep.  The child partially wakes often with eyes open.  During a night terror the child may scream, yell, or mumble.  They may kick, flail, or get up out of bed.  They are not awake however and are not actually engaging with you even if they are looking at you.  The night terror ends in deep sleep and the child does not usually remember it in the morning.  Night terrors are not uncommon between the ages of 3 and 8 years old.  Night terrors can last from 10 – 30 minutes. Night Terrors are generally not harmful to the person experiencing them.
Nightmares
What to do:  The first thing to do is comfort the distressed child.  As silly as the content of the dream may seem to you it was recently playing in their mind in a very realistic way.  While it is important to hear the child out if they are describing the dream to you it is better to change the subject fairly quickly more upbeat topics of discussion.  This will help them to fall back to sleep by guiding their mind back to a calmer and more peaceful state.
In the nights to come it may help to have a night light and to keep a bedroom door open.  If the child wants you to check for monsters under the bed or reassure them that nothing is in the closet you can.  It may help but be cautious in this.  You want what you are doing to be soothing to the child but you do not want to legitimize irrational concerns.  If you show them the closet is empty while reminding them that monsters are not real that is one thing.  If you get out a flashlight and make a game of it the child might think that it is more than a game.  Keep in mind that this is already something that they have attributed some level of reality to in order to find it extremely frightful (even if they tell you they know it isn't real.)
I am generally all for joining kids where they are in order to connect, bond, and show them the value of their interests and passions.  The exception is when you would be joining them in a place you need to help them to move out of.  In this case their irrational fears that are causing them night time distress.
If the nightmare is a one time thing then there is no need to worry or harp on the matter.  However, if these bad dreams become a recurring issue then talking about them during the day time is the best way to go.  If the dream was bad enough to wake them and send them looking for comfort then the child will most likely at least remember the general content and feelings that they were experiencing during the dream.  When bed time is no where near try to get them talking about the bad dreams they have been having.  If they talk in an open ended way about the dreams it gives you an opportunity to look for themes and consider potential triggers for them.
Some questions to ask that would encourage open ended responses from the child
Will you tell me about the bad dream you had last night?
How was the dream last night different than the one last week?
It seemed like last nights dream was really scary can you tell me why?
What did it look like?
How were you feeling during _______ part of your dream?
When have you felt like __________ when you were awake?
Do you ever feel unsafe when you are awake?  If so when?
What was the _______ doing?
When the ________ was chasing you what did you think it would do to you if it caught you?
The idea here is just to get them talking about the vivid details so that you can have as clear a picture as possible.  Then you want to shift towards asking them when in their life they feel unsafe or out of control or threatened…whatever fits with the tone and general content of the dream.  They just might tell you that the last time they felt like that was when a big kid on the playground scared them or when they saw a clip on the news last week.  Great now you have a source you can really address.
It just might not be that easy.  Sometimes the association is unclear or unidentifiable.  Not everything has a clear connection.  Sometimes the sleeping mind just takes general feelings and fleeting thoughts and projects them onto a dream canvas. If that is the case spend some time talking about what dreams are.  Explain that the process of dreaming helps to keep the mind healthy and that washing away fears during the night can be a good thing. Before bed read some books with the child about bad dreams and remind them that if they need you in the middle of the night you will be right there.
Some great book choices: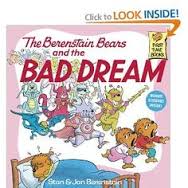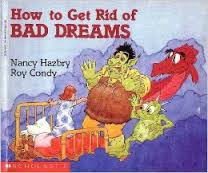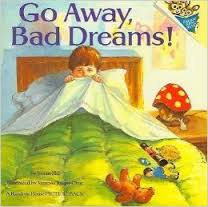 Seek professional help if:
The content concerns you.  If you are concerned that someone may have harmed your child to cause the dreams
The child is experiencing serious fear during the daytime that is impairing their ability to function
If the dreams are becoming worse and increasingly frequent over an extended period of time.
Night Terrors
Night terrors are an interesting and often very scary phenomenon.  Generally the night terror is mostly scary to the person observing the experience because the person having the night terror is completely unaware.  During a night terror the process of sleep paralysis has gone awry.  Normally, our brains send a message in our sleep cycle to shut off the link between our brain experience and it's ability to send messages through our spinal cord.  This renders you paralyzed while dreaming.  It may sound scary but thank goodness it happens or we would all be running around in our sleep reacting to whatever was happening in our dreams. This paralysis keeps us safe.
Night terrors are in line with sleep walking.  The dreamer's brain has not paralyzed their body and as a result the dreaming mind is sending messages to the body to engage in movements and the body just following orders begins to comply.  The result is sleep talking, walking, screaming, running, driving…you name it.
Children's sleep cycles are different from adults and they sleep more deeply making it more likely that they will not be roused by their sleep experiences. As such night terrors are most likely to occur between the ages of 3 and 8 years old when children are sleeping deeply.
What a Night Terror looks like:
The child is kicking and screaming in their bed.  Screaming for help screaming to run or go away.  They seem panic stricken and are looking at you with big wide eyes.  They do not respond when you ask them what is wrong.
The child is sitting up in bed mumbling.  They look fearful and are trying to hit the wall.
The child rises up out of bed and begins running maybe yelling maybe saying nothing at all.  Their eyes are open but they do not answer you when you call their name.
While the night terror itself is not going to inflict emotional or physical harm to the child there is a serious risk of secondary harm due to the results of the physical activities they are engaging in during their sleep state.
What to do:
First and foremost you have to keep the child safe.  This means preventing them from hitting a wall, running into a door, tripping over objects, or falling down the stairs.
Do not try to wake the sleeper.  Waking a person during this deep sleep state is very disorienting and scary. It is hard to not try to wake a child who you appears to be scared but remember that this will pass on its own, bad dreams are a normal part of healthy sleep, and if you don't wake them they are very unlikely to remember the event.
Offer soothing speech and gently hold the child only if it is helping.  remember that for all you know that hold feels like whatever in their dream has now caught them or they are dreaming that they are tied up.
Prevention and Precaution
The presence of a night terror suggests that it is likely that there may be another in the not so distant future.  If a child has one night terror it might be a fluke but if they have a couple then it is likely that their sleep brain chemistry is such that their body is not reliably being paralyzed during deep sleep.  It is recommended that precautions be taken to ensure their psychical safety.  This includes keeping the floor int heir bedroom clear at night and potentially installing an alert system that notifies the parents if the child has gotten out of bed and is moving about. Remember that just because int he past the child's night terrors have only involved flailing and sitting up in the bed does not mean that the next one would not involve getting out of bed.  It is all based on the body receiving and acting on movement messages that it should not be receiving during a sleep state.
Sleep behavior tends to be more erratic when the sleeper is overly tired.  Avoid sedating medications prior to bed and avoid late nights and exhaustion.  These things can trigger an increase in night terror experience in children who have night terrors.
Seek professional assistance if
The child is engaging in jerking movements, drooling, stiffening and spasming.  This may indicate that what is happening is a seizure rather than a night terror.
The Night Terrors become a regular occurrence not something that only happens on occasion.
Night terrors are observed to last longer than 30 minutes
The child is experiencing day time fears related to night terrors.
Try to remember that bad dreams pass and the best thing that we can do is teach our children that they are normal and that they can serve a purpose.  That purpose may just be to sort away fears we did not know that we even had or to teach us that something is bothering us that we need to change.  If we show them that it is normal and teach them that the dreams have no power then as they grow their perspective of what a bad dream is can change.  The result being creating a more resilient sleeper.
The following two tabs change content below.